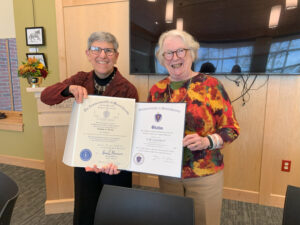 WestMass ElderCare (WMEC) hosted its Annual Meeting on Monday, November 13, 2023, marking a momentous occasion to reflect on the organization's accomplishments over the past year. Executive Director Roseann Martoccia presented an overview of the highlights, emphasizing the significant impact WMEC has had on the lives of over 12,000 individuals throughout Western Massachusetts.
Among the key milestones shared was the successful implementation of two new programs: the Hospital to Home Program and the CARE (Caregiver Assistance, Respite and Enrichment) Program. The Hospital to Home Program, developed in collaboration with Holyoke Medical Center, involves Hospital Liaisons working with discharge teams to secure services for individuals transitioning from hospital care back to their homes. The CARE Program is aimed at providing caregivers with paid essential respite care.   Both programs were made possible through grants received from the MA Executive Office of Health and Human Services.
This year's Annual Meeting, although small and intimate, set the stage for next year's anticipated public and celebratory event, as WestMass ElderCare gears up to commemorate its 50th anniversary.
In addition to the organizational updates, WMEC Board President Helene Florio of Holyoke concluded her four-year term. Ms. Florio received commendations from Senator John Velis and Representative Pat Duffy for her dedicated service to the board.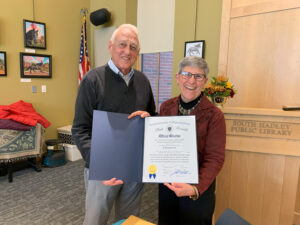 Furthermore, two long-serving board members bid farewell to their roles. Jim Tillotson of Chicopee, who served for an impressive 19 years (2005-2023), and Jim Bell of Belchertown, with 16 years of dedicated service (2008-2023), are ending their service on the board. Both esteemed members received citations from Senator Jake Oliveira and Representative Shirley Arriaga for Mr. Tillotson and Representative Aaron Saunders for Mr. Bell.
As WMEC continues its commitment to serving older adults and persons with disabilities in Western Massachusetts, the organization expresses gratitude for the contributions of its outgoing board members and looks forward to the exciting opportunities that lie ahead in its next chapter.